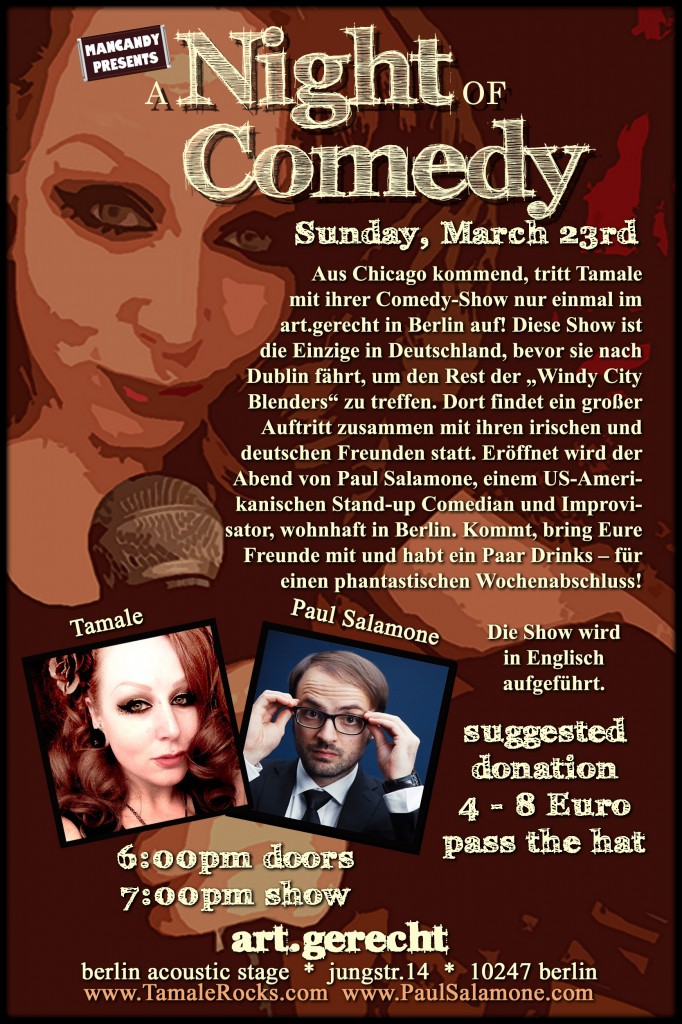 *English text below*
Aus Chicago kommend, tritt Tamale mit ihrer Comedy-Show nur einmal im art.gerecht in Berlin auf! Diese Show ist die Einzige in Deutschland, bevor sie nach Dublin fährt, um den Rest der "Windy City Blenders" zu treffen. Dort findet ein großer Auftritt zusammen mit ihren irischen und deutschen Freunden statt.  Eröffnet wird der Abend von Paul Salamone, einem US-Amerikanischen Stand-up Comedian und Improvisator, wohnhaft in Berlin.  Kommt, bring Eure Freunde mit und habt ein Paar Drinks – für einen phantastischen Wochenabschluss! Die Show wird in Englisch aufgeführt.  Der Eintritt ist frei, es wird jedoch ein Hut für die Künstler rumgehen.
All the way from Chicago, Tamale is performing comedy for *one night only* at art.gerecht! This show is the last one before she heads to Dublin to join the rest of The Windy City Blenders for a big show with their Irish and German friends!
The evening will be opened by Pail Salamone, an American stand-up comedian and improviser based in Berlin.  Come out, bring a few friends, and have a few drinks as we finish the week in style!  The show will be performed in English.  Entrance for free, but a hat will be passed for the artists.
www.TamaleRocks.com
www.PaulSalamone.com
www.WindyCityBlenders.com
www.art-gerecht-berlin.de
art.gerecht
berlin acoustic stage
Jungstr.14
10247 Berlin
U5 Samariterstr.
U/S Frankfurter Allee