By Aimee McKay & Rebekah Walendzak  Thu, 27 February 2014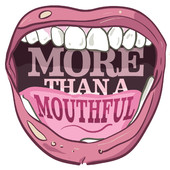 Rebekah and Aimee welcome Tamale to More Than A Mouthful this week! Tamale is a Chicago based Actress/Comedian/Burlesque performer and a real delight!
Find more of this podast on iTunes here!
Find this specific podcast here!
Fausto Fernós Apr 28, 2010 · 25852 views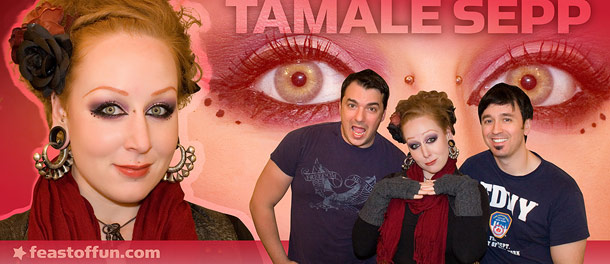 Sexual desire is a powerful thing. It shapes us in ways we may not even be aware. Many psychologists agree that it is the core of who we are as people. What turns you on is all about your hopes and dreams so it's worth reflecting on and making art about it.
Today teacher, comedian and bondage babe Miss Tamale Sepp joins to talk about her recently finished MFA thesis, "Bound and Determined," an installation of self-help books beautifully tied up with red ropes in Japanese bondage style and a performance piece where she reenacts a day in the life of a sadomasochistic high school teacher.
Listen as we talk with Tamale about how the torturous qualities of schools may actually benefit us and ancient forms of Asian erotic role play.
Fausto Fernós Feb 8, 2010 · 16666 views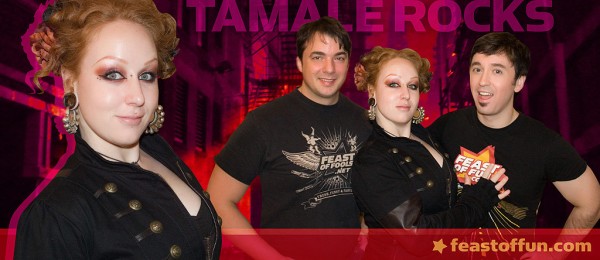 Oooh! Sarah Palin got caught cheating! The former VP candidate spoke for cool 100,000 dollars at this weekend's Tea Party convention.
During the Q&A session following her speech, Ms. Palin appeared to read a collection of nonsensical buzz words written on her hand like "Energy," "Tax" and "Lift American Spirits." Is this is how Sarah made it through college?
Our Chicago gal pal Tamale, part comedian, part burlesque star, 100% fabulous joins us to kick off our revamped YouTube video blog and take a look at the impact of social media on our lives.
Do you feel like you're drowning in the vast sea of status updates, twitters, podcast and blogs? Have you made new friends and lost old ones because of the internet?
Marc Felion Oct 7, 2009 · 31527 views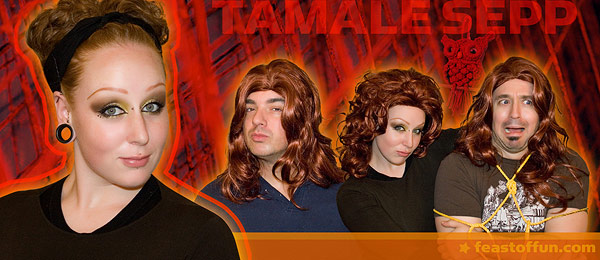 Our friend Tamale Sepp has a full-sized, styled corset tattooed on her back, black fingernails, and loves to boss people around, especially in the bedroom. Did we mention she knows the fine art of Shibari, Japanese Rope bondage? So does this make her a dominatrix?
Today comedian and interdisciplinary artist Tamale Sepp talks about her unusual dissertation, "Bound and Determined" which examines the ways we willingly get tied up in order to liberate ourselves.
Listen as Tamale shares with us a couple of great stories about engaging a driver who almost killed her on her motorcycle and the vital advice she gave to a young angry goth girl on surviving high school.