Tamale on The Traveling Troubadours (Episode 1)  November 7, 2013
Posted by The Theatre School at DePaul University Dramaturgy/Criticism Program Blog.
We are a collective of 20somethings grappling with ideas shaping the theatre of our generation. We're sick of only hearing about the work happening in commercial and regional theatres. We want the offbeat: the theatre that is happening on street corners, in basements, and in places that aren't always meeting fire code. We reject rigid definitions of theatre.  The realism, the naturalism, and the Shakespearean are gr8, but give us something new for fuck's sake.  We want to talk about the theatre of the here and now in Chicago. "The Grappler" is our stomping ground to feature issues, artists, and productions that matter to us. We want to look beyond what we view as dead in order to find life in the art form we love.
Tamale on General Admission as a part of Your Story "Art and Sex"!  June 17th, 2013

Your Story | Art + Sex from KBH Media on Vimeo.  Your Story is KBH Media's episodic exploration in people's answers to simple questions.  At GENERAL ADMISSION, we talk about the arts so that you do too.  Each month, we explore a theme through our podcasts, blogs and videos and present them on THE STAGE, our virtual performance space. We invite you to join in on the conversation there, as well as our various social media platforms by checking us out at generaladmissionchicago.com.
Tamale on CBS Chicago, interviewed as a professional fire performer!  February 5th, 2013.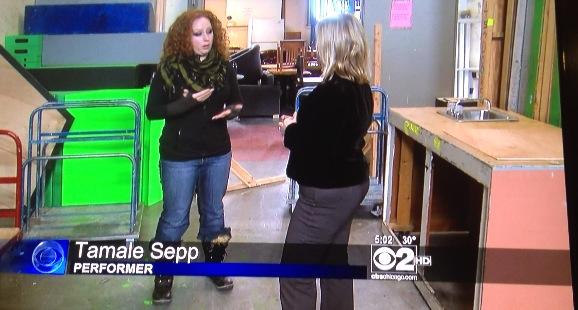 Dana Kozlov interviews Tamale Sepp, a professional fire performer, after the unfortunate hospitalization of a Lyric Opera performer who caught on fire at a rehearsal.
Tamale interviewed by The L Stop!  October 5th, 2012
Tina C. from The L Stop interviews Tamale Sepp about her transition from agriculture to comedy. They also discuss Tamale's new comedy series, Brass Chuckles Comedy.
Tamale on WCIU Chicago again, plugging Brass Chuckles Comedy!  August 30th, 2012.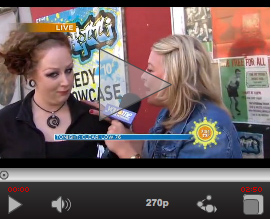 Aly Bockler of the You & Me this Morning team on WCIU interviewed Tamale live for our show premier!  Stand-up comedian Gwen LaRocka and video producer Shaun Clayton joined in for this bright and early spot to highlight our show!
Tamale on WCIU Chicago!  February 15, 2011.
Tamale Sepp on WCIU Chicago for Comedy Corner making the funny for Valentine's Day with Scott Derenger, Tamale, and Adam Burke.  I made her ugly laugh at 4:07.  Major score.
On the News in San Francisco!  April 2007.
Check out Temple of Poi founder and PoiGeek co-founder GlitterGirl and these other super hot fire dancers (uh, like Tamale) on KRON being interviewed for the Temple of Poi Fire Dancing Expo (SF, CA) in April 2007. Check out the video lessons available at http://poigeek.com and in person classes at http://templeofpoi.com